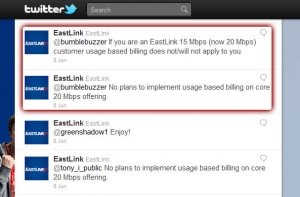 Eastlink makes the announcement on Twitter -CC

According to a statement posted on Twitter by the Eastern Canadian cable Internet provider, the company said usage-based-billing will not apply to their customers on their core 15-megabit Internet plan for $62.95.

The plan price for a 20-megabit uplink is considered high among western countries and indeed across the planet, so we can't really understand why UBB would even apply to the service or any other similar service offered by any Canadian ISP, but it certainly is a breath of fresh air for customers and heavy Internet users.

To be clear, this statement currently only applies to customers who are signed up for the 15Mbit plan which was also recently upgraded to 20Mbit/s for free, possibly trying to get a little piece of the media attention Shaw recently received when they upped their limits.

Since most providers recently hardened and/or lowered their caps while raising prices, this is good news for the Canadian Internet surfer who uses online video services like Netflix or Youtube.

According to the most recent reports, however, Eastlink hasn't made any changes to their upper tier pricing plans and caps remain in place. Until recently, customers reaching a soft limit had received courtesy calls from Eastlink reminding them that their Internet usage is too high.

Customers of the service in most regions also complain of throttled connections when using file sharing services like Bit Torrent, so there's obviously little reason for a real usage cap for what the company considers heavy users.

Eastlink provides service to customers across Canada but is concentrated in Nova Scotia, Newfoundland, New Brunswick, PEI and small communities in Northern Ontario. It's nationwide coverage map includes sparse coverage in Southern Ontario, BC and Alberta.