Telus Mobility Logo -Telus
If you remember clearNET, you probably know that Telus Corporation acquired it in late 2000. Since then, not much has changed as Telus still offers cool phones, unique price plans and free calling on your birthday!
For a long time clearNET was considered Fido's main rival but after clearNET was purchased by Telus, it has moved to become a major player on the national wireless scene.
"The Future Is Friendly" has been Telus Mobility's slogan since it acquired clearnet, and follows it's motto like the bible.
Telus Customer Service:
When looking at customer service, we rate them on their knowledge, friendliness and going that extra mile to please the customer.
Telus Mobility operates call centres across Canada, and it becomes somewhat difficult to give a clear picture on exactly how good or bad they are, but we found their customer service representatives to be very sales-oriented. They are helpful but very often don't have the technical knowledge to answer questions regarding their network.
Customer service quality is reasonable and they seem to get billing issues sorted out.
According to one of our readers, if you get a not-so-knowledgable new customer service rep, just call back in a while until you get someone who really knows their stuff.
The Telus CDMA Network:
Telus Mobility, along with Bell Mobility, operate on a CDMA (or Code Division Multiple Access) network capable of basic telecom features.
Telus Mobility's service is capable, thanks to upgrades in their network, of text messaging, Internet browsing and other cool features we've come to expect as basic features of mobility. Along with Teuls` cool phones, using these features can be fun for those who loves gadgets and new technology.
Network coverage has been increasingly improved throughout the country from Ontario to Quebec to Telus` homebase in Alberta and British Columbia. CDMA limitations are still prevalent, however. Dropped calls and clarity continue to be problems, especially in areas where coverage isn't at it's best.
Telus Mobility's GSM Network:
Bell Canada, together with Telus have recently joined together to launch their own GSM network in Canada to compete with Rogers and it's discount brand Fido. This now gives Canadians the option to use GSM powered phones such as Apple's iPhone, GSM BlackBerrys and phones available worldwide via online web sites such as ebay. The pair also recently forced the Rogers network to drop it's claim to be the fastest and most reliable network through court action.
Telus/Bell's GSM HSDPA/3G+ Coverage: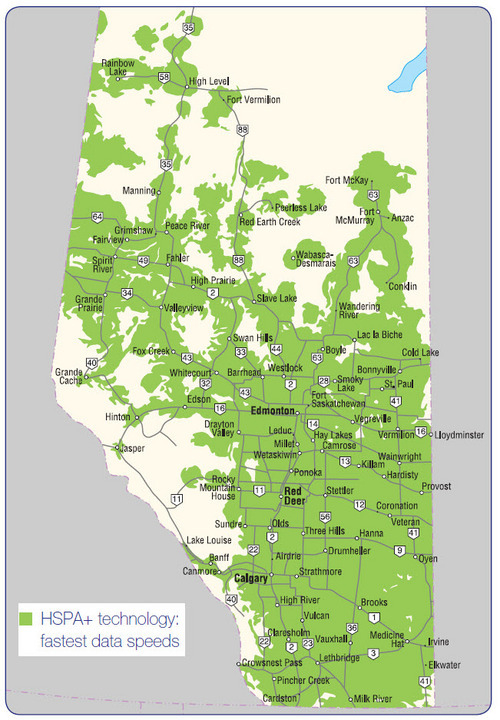 Telus coverage in Alberta (only 3G+ shown)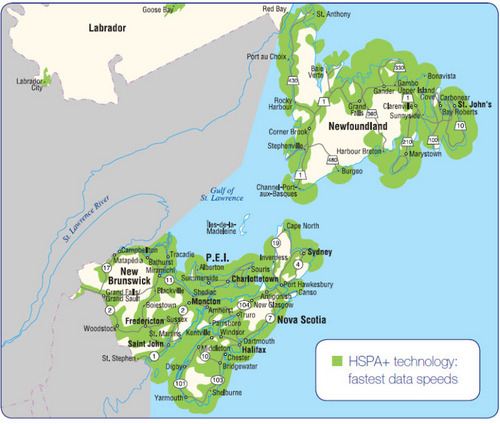 Telus coverage in the Atlantic provinces (only 3G+ shown)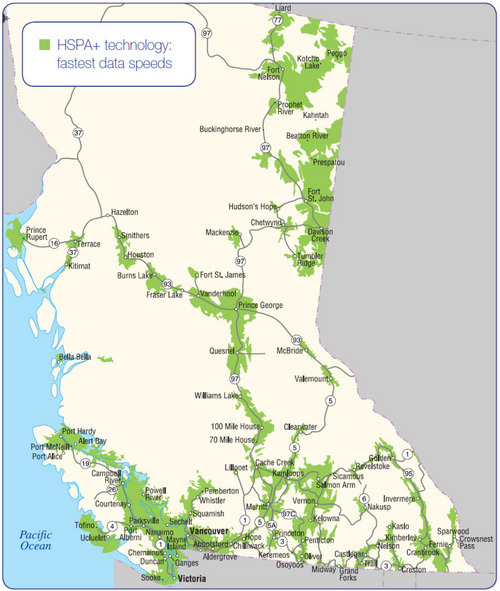 Telus Mobility in British Columbia (only 3G+ shown)
Telus coverage in Manitoba (only 3G+ shown)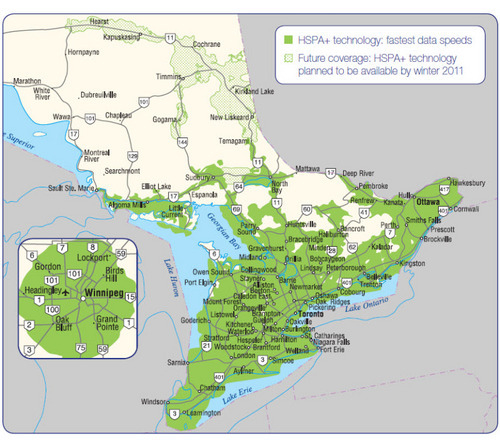 Telus coverage in Ontario (only 3G+ shown)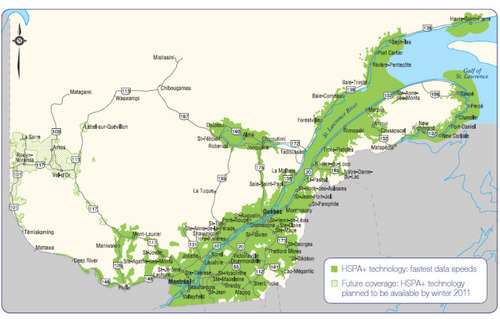 Telus Mobility coverage in Quebec (only 3G+ shown)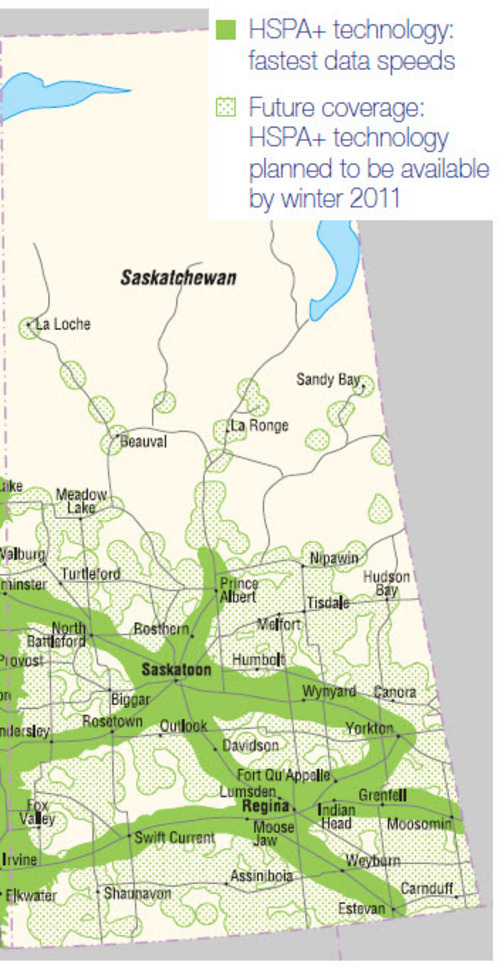 Telus coverage in Saskatchewan (only 3G+ shown)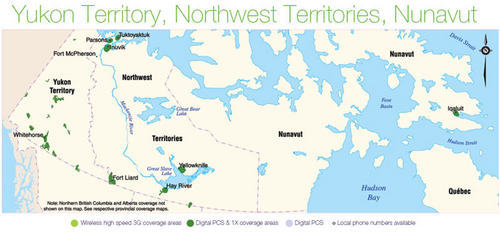 Telus coverage in The Territories (the North)
Telus Phones:
Telus Mobility markets their service as having the coolest phones. Infact, it wouldn't surprise me if 75% of their marketing was spend on promoting their phones. You see commercials with pigs flying and frogs jumping all over the place. Telus Mobility has somehow integrated these cute creatures into their phones.
Whether you want a flip phone, a colour phone, an mp3 phone, a mobile pda or a phone that plays songs instead of those typical ring-ring tones... Telus Mobility has got it!
Telus Mobility offers top brand names such as Samsung, Blackberry, Audiovox, Motorola and Kyocera. It seems Telus` competitors have taken the Telus Mobility example set and started to carry the similar if not the same mobile phones offered by Telus Mobility.
Telus Pricing:
Telus Mobility is partly based on a contract model like some of it's competitors. If you tie yourself into their scheme for 2 or 3 years, you get discounts of $50 or $100 on your phone. Their plans don't change much for contract customers, so you are not required to sign a contract if you still want to benefit from the perks.
Perks. Telus Mobility has become famous for them. Free calling on your birthday, monthly perks such as getting a discount on going to the movies, discounts at popular retailers across the country and countless others. Merely a marketing scheme, but they do pull in customers as such.
Telus Mobility has also been known to pull in customers from their competitors by offering discounts on their current plans.
Telus Plans:
Telus Mobility offers a comprehensive set of price plans available for personal, business and power users. Available are set-minutes-per-month, evening and weekend plans, data plans, family plans and corporate plans.
Each plan offers it's own perks, once again, Telus Mobility is famous for them. Every month seems to offer different perks for basic and comprehensive plans. From unlimited local calling for your first 3 months to $0 telephones, be reminded that most plan perks are only available on 2 or 3 year contracts. Discounts on movie tickets and other coupons do not require a contract, and are available to all customers.
Many Telus Mobility plans include standard telecom features such a Call Waiting, Call Display, Three-way Calling and Basic Voicemail.
Telus Mobility will also match the standard plans of it's competitors as long as you present them with an advertisement or refer to a certain plan offered by I.E. Bell, Rogers or Fido. This offer has been known to appear and disappear, however, during peak seasons like the beginning of summer and around Christmas time.
Features:
Offered in most plans is the ability to send and receive text messages for free or for a fee. You often get perks for your plan duration or a set period.
Telus Mobility network is capable of all of the standard telecom features for a fee, such as Advanced Voicemail, Picture Messaging, Call Forwarding, Conference Calling, Call Display and others.
Telus Mobility also offers those goodies everybody has come to love like downloadable ringtones, icons, logos, screensavers.
Telus Mobility SMS:
An online SMS tool is available free of charge from the Telus web site. Be reminded that the person receiving the text message may be charged.
Overall Value:
If Telus Mobility offers features which you find useful or mandatory, then by all means the Telus Mobility plans can be right for you. If you just want a phone you can talk on without the need for unlimited calling on your birthday or you plan to use it primarily for long distance calling, then keep your options open.
Telus Mobility offers excellent value for gadget-oriented people, but offers little extra in the way of value for people who just want a phone as a phone.