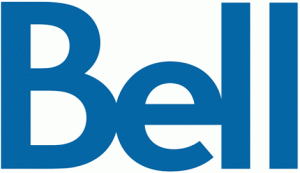 Bell Logo -Bell Canada
Bell Mobility is the longtime player in this arena. Rightfully so, they are Canada's biggest and oldest monopoly [historically] controlling telecom services within the largest markets of Canada. Bell Mobility entered the cellular market in the 80s when mobile phones were used by CEOs only. But they've evolved from the brick-phone, executive-only service to a very successful player.
Customer Service:
I've found Bell Mobility's customer service to be very good in some areas and terrible in others. I've seen complaints before, but I've never had very bad experiences myself. The customer service teams (in Ontario) are friendly, knowledgeable, bilingual and always willing to help out. Though agents usually try to sell you an additional Bell service or product at the end of your support call, it's to be expected as part of their telephone-script.
On a general rating of 10, I'd give Bell Mobility customer service agents a score of 5 or 6 out of a total of 10. Basing this on several factors: staff who are knowledgeable, friendly, supportive and the overall tone of the conversation. They lose some points because of the upselling factor, I want to get one thing done and don't have the time to wait around answering "no" to everytime they ask me if I'm interested in Sympatico, Call Privacy or Bell Bundles. Some of our users have also reported problems, delays and a general hassle when trying to rectify billing problems or cancel their service completely. An extra note: the customer service wait time queue seems shorter during peak periods than Rogers or Fido.
CDMA Network:
Bell Mobility operates on a network protocol called CDMA, or Code Division Multiple Access. This is one of the oldest digital network types in use in North America. Though many providers have switched or are switching to GSM (Global System for Mobile), Bell Mobility is improving their network while maintaining their coverage areas which are superior at this point to GSM. (Update: Bell has now launched a GSM network) CDMA is also being used by Telus Mobility. The clarity of CDMA is in many instances poor compared to other networks in urban and suburban regions. A telephone call on a CDMA phone in a equally well-covered area by a GSM service is not comparable to GSM clarity.
GSM Network:
Bell Canada, together with Telus have recently joined together to launch their own GSM network in Canada to compete with Rogers and its discount brand Fido. This now gives Canadians the option to use GSM powered phones such as Apple's iPhone, GSM BlackBerrys and phones available worldwide via online web sites such as ebay. The pair also recently forced the Rogers network to drop it's claim to be the fastest and most reliable network through court action.
Bell's GSM HSDPA/Edge Coverage Maps: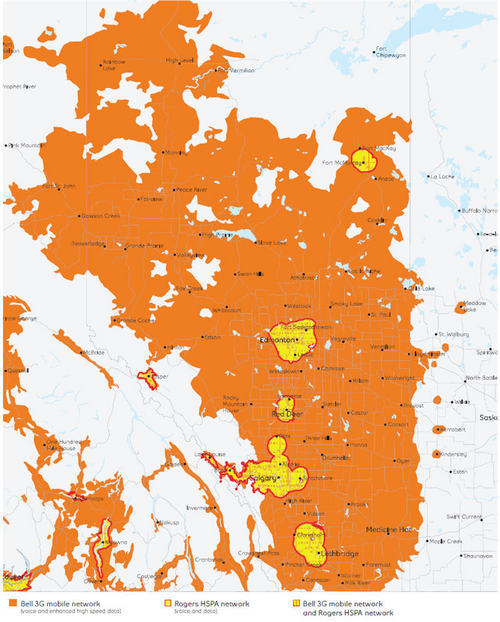 Bell Mobility coverage in Alberta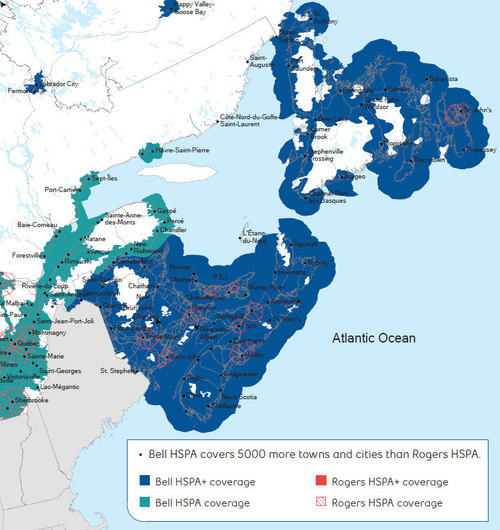 Bell Mobility coverage in the Atlantic provinces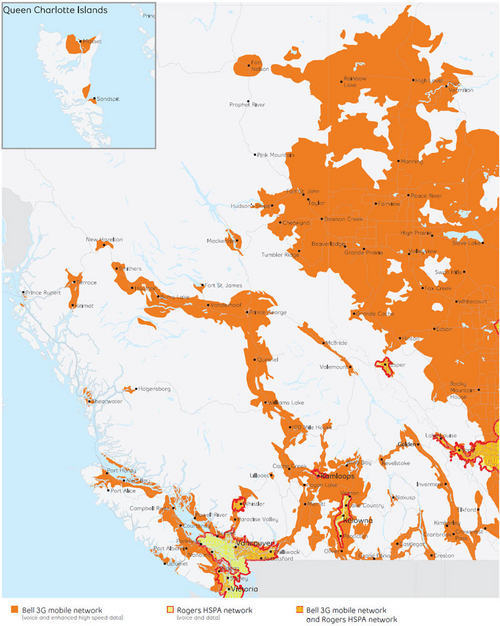 Bell Mobility coverage in British Columbia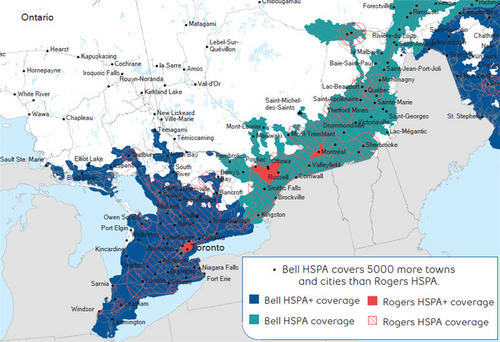 Bell Mobility coverage in Ontario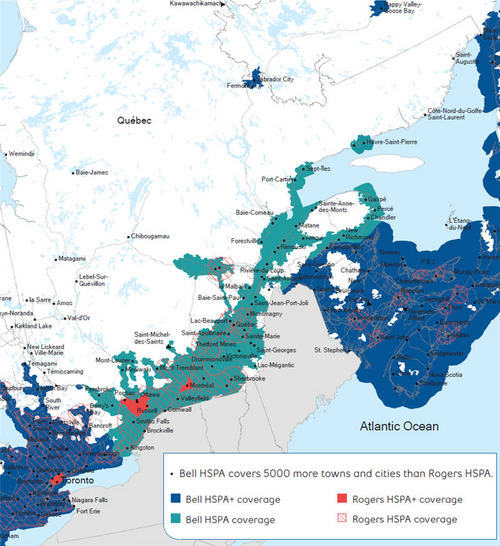 Bell Mobility coverage in Quebec
Phones:
Bell Mobility, as with all of Canada's providers, can offer you those gadget phones many always wanted. Camera phones, flip phones, colour phones, mp3 phones, Internet phones, messenger phones... All available. Bell Mobility does have costs associated with these phones and you can expect to pay high prices if that's what you really want. Why would somebody want a mobile phone that takes pictures? One can't really say. We can say though, that Bell Mobility has these phones available, usually best on promotion. Bell Mobility offers many top brands such as Kyocera, Nokia, Samsung and the like. In the past, they've been known for their obsessions with Audiovox (a piticularly cheap phone).
Pricing:
One of the most important factors in choosing the right plan for you is the pricing and availability. Bell Mobility is not the least expensive service available, but I and many loyal Bell Mobility customers believe you get what you pay for. With Bell Mobility, you can't expect to receive tons of free services you might expect with other services by default. With that said, you will expect to pay an extra fee for call display, Voicemail, conference-calling, etc.
Plans:
Bell Mobility offers comprehensive rate plans. Some include Long Distance plans, Minutes-per-month, Unlimited evenings and weekends and the overusage minutes vary depending on the plan. Data plans are also available.
Features:
Plan and phone combinations offered through Bell Mobility have the capabilities of Internet usage, MSN Messenger and typical telephone capabilities such as Call Waiting, Call Display, Voicemail etc. Bell Mobility is not for you if you're only interested in using your phone to download ringtones, icons, screensavers.
Overall Value:
You get what you pay for. You will enjoy excellent coverage, friendly customer service, cool phones and moderately affordable plans.
Bell Mobility SMS:
An online SMS tool is available free of charge from Bell Mobility's web site. Be reminded that the person receiving the text message may be charged a fee-per-message.