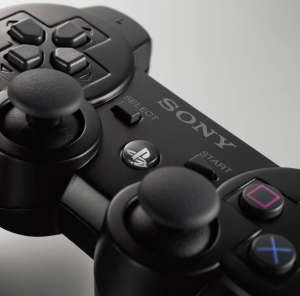 PS3 Controller -SCEA

This guide will show you how to use a Playstation 3 controller on your Windows PC.


Introduction to Sixaxis controller on Windows 7


Sony has come up with some pretty innovative things when it comes to its gaming consoles and the PS3 introduced wireless controllers transmitting through Bluetooth. Bluetooth devices are highly compatible devices and most current generation PCs can communicate easily with them. The controllers themselves are very well designed and easy on the hands for long-term use.

Thanks to years of development and the hard work of a dedicated group of hobby programmers, device drivers have been created by the folks at Motioninjoy.com which are highly configurable and a breeze to install. They have even recently started signing their drives to make it less hassle for users to install. Signing drivers is, of course, not cheap and some of the hobbyists contributed financially to the cause.

Getting Started

To get on your way to using Sixaxis controllers on Windows, you're first going to have to download the signed device drivers for Windows. You can grab the 32-bit version here or the 64-bit version here. This guide is for Windows 7 (32-bit and 64-bit) but is equally useful for Windows Vista users. Configuration for the drivers is easy when using the included tool, DS3 Tool.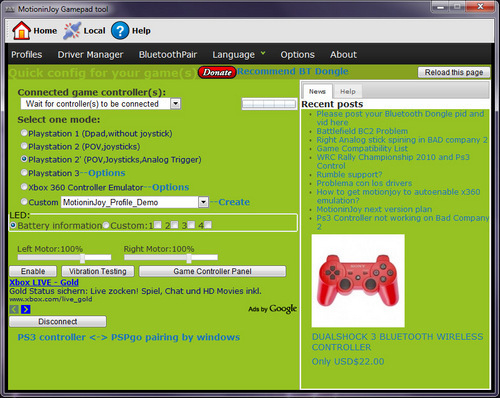 The main dialog box for DS3 Tool, the configuration utility included with the Windows driver



You also have the option of using the device wirelessly with a Bluetooth connection to to tether it with a standard mini-USB cable, the same type which is used to connect it and charge it when connected to the Playstation 3 system. DS3 Tool also includes options on which modes to use you Sixaxis controller in like utilizing the analogue trigger and/or joysticks. For those familiar with the Xbox 360 controller, it can also emulate that device. All options are included with the simple control panel provided by DS3 Tool.


PC Games with Sixaxis


Since the Motioninjoy driver for Playstation Controllers installs the Sixaxis as a typical Windows game controller, it supports virtually all games for Windows with joystick support. Unfortunately, since the controller was designed for use on a console without a keyboard in mind, it takes some manual configuration to be able to use it comfortably. During some tests, we found that the default sensitivity settings for the controller were a little bit too sensitive and found it at times difficult to control certain games.

We tested it on games such as Project Torque, PES2009, some Nintendo Emulators such as Nintendo 1964, Street Fighter 4 and more. Other games like Grand Theft Auto IV, we found it difficult to use the PS3 controller because the sensitivity levels were all too high and above all, most games require manual tweaking! My favourite use for the PS3 controller was Microsoft Flight Simulator X, though configuring the multitude of controls along with the keyboard took some testing and experimentation with what I was comfortable flying a plane with.

You can find a full list of compatible, tested games on the Motioninjoy wiki here: Motion in Joy Game Compatibility

Some games we tried even worked properly with vibration turned on. If you're wondering whether your chosen game will support any features, the wiki link above provides a list of what's supported and what's not. There are also guides on setting up your game controller for specific games. Kudos to the people who wrote those and provided them to the public.


Sixaxis on Windows Vista


Windows Vista is supported and testing the DS3 Tool with it was a breeze. Just note that if you don't already have the .NET Framework installed (it comes pre-installed with Windows 7), you should Download the .NET framework from Microsoft. If you're using 32-bit Vista, download the Sixaxis 32-bit driver for Vista else if you're running a 64-bit version, get the 64-bit driver.


Sixaxis on Windows XP


Windows XP is one of the great Operating Systems of our time and it would be wrong to leave it out. I don't believe the OS is really officially supported on WinXP that much in the user forums, but it has been shown to work on that OS. First thing you'll need to get the Playstation 3 controller device driver and DS3 Tool control panel working is the .NET framework from Microsoft and finally the 32-bit driver. Since Windows 7 comes with the framework by default, this step isn't required for Windows 7.

Conclusion

Certainly if you have an extra Playstation 3 Sixaxis controller and you play games on your PC, the Sixaxis controller on Windows is a perfect and easy way to save some dough on avoiding the purchase of an expensive joystick. I personally use the joystick for use with Microsoft Flight Simulator X and whenever Microsoft decides to release their "Microsoft Flight", it will probably do the job well there, too.

Since there are such a wide variety of devices available and tons of different configurations for games, the Motioninjoy driver and the included DS3 Tool can be confusing and tedious to configure for multiple games, but their user forum and the wiki listed above provide great, user-written guides to help make up for that.

Since the Sixaxis controller was designed for use only with the PS3 and PS3 games in mind, it's obvious there are drawbacks, but nothing a little community involvement and guides can't solve.

Check out a Step-by-step Video

http://www.youtube.com/watch?v=OfAs30v_730