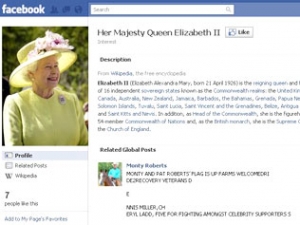 The Queen's unofficial Facebook page -couriermail.com.au

Queen Elizabeth II may be 84 years old but she is not averse to embracing modern technology.

Earlier this year the Monarchy opened an account on the photo-sharing website Flickr, which to date hosts more than 1,400 royal pictures.

Last year a Royal Twitter account known as @BritishMonarchy was launched. It now has almost 70,000 followers and has posted more than 4,500 'tweets'.

The Royal Household has also had a YouTube channel since October 2007 which boasts 32,000 subscribers.

In 2005, the Queen even bought herself an iPod - and she was also given one last year as a gift by Barack Obama.

And now, it has emerged that the Queen has even joined Facebook, the world's largest social networking site.

But anyone thinking that she'll be doing what her grandchildren are doing on the site, such as writing about what cool parties she attended recently, are going to be disappointed. Her page will strictly concern itself with official news and engagements. It will feature images, videos, news and speeches as well as an application which enables subjects to search for Royal events in their area through the Court Circular, the official record of the Royal Family's engagements that has been produced daily since 1803.

'The Queen has approved the decision – she knows all about Facebook,' says an aide. 'Facebook is the final frontier of the Royal Family's foray into digital technology.'

The Queen already has an *unofficial Facebook fan page set up in her name with 13,228 followers.

On the site, Her Majesty's interests are listed as 'hunting, fishing and being God blessed'.