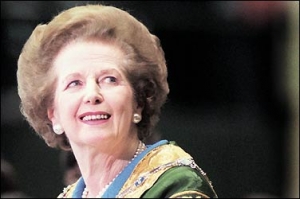 Former Prime Minister Baroness Thatcher -Unknown

Fears are growing over the concern of Margaret Thatcher's health after she has made no public appearances for nearly two months.

Baroness Thatcher, 85, who was Prime Minister between 1979 and 1990, as well as being Britain's first woman PM, was invited to the Royal Wedding but had to turn down the invitation over her health.

The next event in her diary is the unveiling of a statue to her ally and close friend, former US President Ronald Reagan, in London on July 4, but there are fears that she could also miss that.

Thatcher spent two weeks in hospital in November, said to be suffering from a 'flu bug'. In fact, she had polymyalgia rheumatica, a syndrome which causes muscle inflammation in the neck and shoulders and was in severe pain for several months.

It's also been revealed that Thatcher, who many believe to be Britain's best peacetime Prime Minister of the 20th Century, is to get a State Funeral upon her death. Despite the fact that the Queen disliked Thatcher immensely when Thatcher was in power, Elizabeth II has given her blessing to the funeral arrangements in recognition of Thatcher's reversal of Britain's decline after the War took its toll.

It will take place at St Paul's Cathedral in London and she will be the first British PM to have a State Funeral since Churchill in 1965.

State funerals in Britain are usually reserved for monarchs, but the reigning monarch can, if he or she wishes, order that a state funeral be awarded to national heroes, such as Nelson and Churchill.

Four great Britons were given State funerals in the 19th Century: Nelson, Wellington, Gladstone and Palmerston.