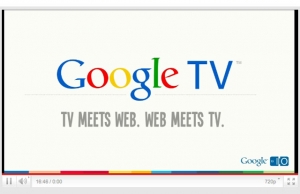 Google TV -Google

Sony and Logitech mark the beginning of a new era: The (hopeful) beginning of wide-spread Internet TV.

On Tuesday, Sony officially launched several high-def television sets and a Google-TV-powered Blu-ray player in its entry into the Internet TV market, expected to gradually expand over the next year.

The televisions were first announced at Google's I/O developer conference in May. The TVs will be marketed as Google TV sets which would eventually feature the Google Android mobile operating system with access to the Android Market.

The company's Blu-ray device will start off at US $399.99 and the 46" TV will begin at around US $1399.99.

Some key features Sony will include:


Netflix, Twitter and Pandora
From early 2011, the Android market
Adobe Flash and an Internet browser
A QWERTY keyboard
Some remote control design elements borrowed from the PS3 system
Built-in WiFi

The operating system will also be capable of multi-tasking with features such as PiP, Google searches while watching TV, video capture and as above, a fully-featured web browser by Google. The Chrome browser would make browsing the Internet much like it would be on a modern home PC.

There is currently no news on whether existing Sony products such as the Playstation 3 system will also include the features of their new Google TV lineup.

If you're looking for a cheaper alternative to getting up and running with Google in the comfort of you own living room, Logitech released a product last week labelled the "Logitech Revue"; starting at a reasonable US $299.99, it's a set-top box powered by Google.