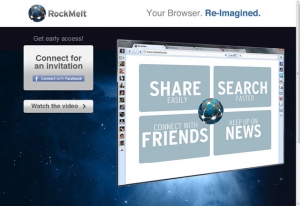 RockMelt site screenshot -RockMelt

Branded the "Facebook Browser" by some, RockMelt integrates social web sites in to an Internet browser based on Google Chrome.

A brand new Internet browsing experience is born with the limited beta launch of a new social media browser called RockMelt. The service compiles data from services like Twitter and Facebook and adds widget-style tabs to the browser window.

The actual browser is built on top of Google's Chrome which is open source, meaning anybody can take the code and use it. Google Chrome has also been rated as one of the fastest browsers available, so it's definitely a plus.

The main issue with RockMelt is that the Internet browser market is extremely hard to break in to. If it's not Google, Microsoft or Mozilla, the usage numbers remain extremely low.

For one thing, this new browser integrates features which are currently contained within many web sites including Canadian Content such as Twitter's Tweet or Facebook's Like buttons.

Apart from combining simple social interaction functions such as 'like buttons', it's pleasing to see that you can actually access many facebook pages from the interface such as news feeds, chatting and posting.

RockMelt may well be the perfect entry point for users not yet involved in social media like grandparents.

The look of RockMelt is also extremely clean, something which might be expected considering it's based on Google Chrome.

One cool thing we appreciate about RockMelt is that they've done away with Google's combined url and search bar and reverted back to the old Firefox look and separated them, making it easier to get used to the browser if you're switching from Internet Explorer or Firefox. Another bonus is Chrome plug-ins generally work well with RockMelt, though some don't function properly.

The service is currently only available by invitation and according to testers, the product still remains extremely buggy. Another issue critics cite are the dangers that sharing personal data within Facebook accounts might pose, data advertisers and spammers would like to get their hands on.

If you don't mind opening up you social media accounts, run Windows 7, XP, Vista of Mac OS X, then RockMelt might be for you. If you're not interested in sharing your personal data with additional third parties, you might want to stay away for now.