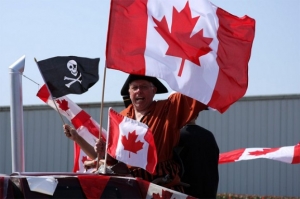 The Pirate Party promises Canadians a VPN service -crenk.com

After opening the way for users in politically controversial countries to access the Internet via Virtual Private Network (VPN), the Canadian Pirate Party has announced a new service aimed at Canadians.

The move comes after worries of a majority Conservative government becoming elected in the upcoming general elections in Canada. The group is worried that proposed changes to Canadian Internet privacy laws will force users to start using third parties to hide their tracks.

The Pirate Party is setting up a VPN service, where Canadians would be able to 'tunnel' into the Internet over their existing connection. The service promises to help anonymize Internet activity, the same service offered to residents of repressive regimes across the planet.

The party plans on providing this service for a monthly price of $10 per 200GB. Though services such as StrongVPN in the United States exist for a lower price with no bandwidth limit.

"This allows us to simultaneously provide protection to Canadians and expand our humanitarian support abroad. We won't keep logs of the activity, although we will of course cooperate with law enforcement in the event of abuse of our services," said the party leader Mikkel Paulson.

The party says it would protect the privacy of users around the world by donating 1 free VPN account to users living under repressive regimes for every VPN account it sells in Canada.