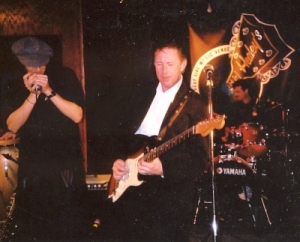 Musician Jeff Healey, 41, has died in Toronto from cancer, it was announced Sunday. Healey is internationally known for his 1988 album See the Light and for his appearance the following year in the movie Road House with Patrick Swayze. His hits included "Angel Eyes".

He was born Norman Jeffery Healey on March 25, 1966 in Toronto. At the age of 1, he was blinded from retinoblastoma, but still learned how to play the guitar by positioning the instrument on his lap.

Healey was host of various Canadian radio programs in recent years and was set to release a new blues-rock album within weeks. He is survived by his wife and two children, 13-year-old Rachel and 3-year-old Derek.

Despite deteriorating record sales in the 1990s, Healey kept busy with radio shows on the CBC and a local Toronto jazz station where he spun long-forgotten classics from his personal collection of more than 30,000 vinyl records.

The Grammy-nominated musician is survived by his wife Christie and two children.