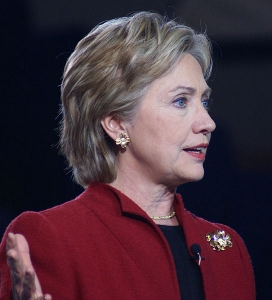 According to the Associated Press (AP), 2008 United States Democratic presidential candidate Hillary Clinton has told lawmakers in New York that she is "open to being Obama's vice presidential candidate".

Earlier, the AP reported that Clinton would concede her race for the White House tonight during a speech in New York City, something her campaign denied.

"The AP story is incorrect. Senator Clinton will not concede the nomination this evening," said Clinton campaign officials in a statement to the press.

The report comes from New York lawmakers who participated in a conference call with Clinton. Nydia Velazquez, a New York lawmaker, stated to Clinton that she should seek being the running mate for Obama because it would win him more votes from the Hispanic and African American populations in November.

"I am open to it [being vice presidential candidate] if it would help the party's prospects in November," stated Clinton, speaking in a conference call with other politicians.

Clinton's lopsided victories in primaries across Appalachia -- in states like West Virginia, Ohio, Pennsylvania and Kentucky -- brought Obama's problems with white, working-class voters into sharp relief.

"Hillary has beaten him in total votes, in delegates and primaries. She just hasn't caught up enough," Munger says.

Obama's supporters have groused for weeks that Clinton is to blame for inflicting cuts and bruises on the Illinois senator by remaining in the Democratic race and repeatedly highlighting his weaknesses.

In a memo to superdelegates last week, Clinton noted Obama had lost key demographic groups -- including seniors, Latinos, women and rural voters -- by significant margins in the most recent Democratic contests.

She also publicized several recent polls, by Quinnipiac University and Rasmussen Reports, that show Obama trailing McCain in both Ohio and Florida, the two states that have decided the last two presidential elections.

"If you look at the swing constituencies, rural voters, where Democrats have gotten killed in recent years and where a lot of people think the race will be won, Senator Clinton is doing far better than Senator Obama," Mandy Grunwald, a senior Clinton adviser, told CBS's Face the Nation.

The bruising primary season has also taken a toll on Obama's personal image, due largely to his longstanding ties to Rev. Jeremiah Wright and Chicago's Trinity United Church of Christ.

Obama strategist David Axelrod said Monday the Illinois senator's weekend decision to resign the controversial church was made before its most recent controversy, when a visiting Catholic priest mocked Clinton for crying and claimed whites feel entitled to the presidency.