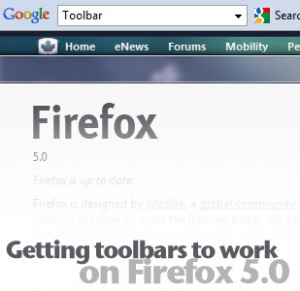 Firefox 5.0 with working toolbar -CC

So it's been a couple of weeks since Mozilla released Firefox 5.0 and you're still waiting for your beloved plug-ins to become available? Some popular toolbars are still not updated for support of Firefox 5.0 and indeed some developers have yet to update their plugins to support the lastest Firefox version who's plugin support is said to be 95% similar to its predecessor Firefox 4.

We have actually figured out a way to get the Google Toolbar working on Firefox without having to suffer downgrading to the buggy Firefox 4.0.

We haven't tested this yet with AVG Antivirus or avast's toolbar, but we're pretty sure this solution should work. Here's how it's done:




Download the addon for Firefox Compatibility Reporter. You can fetch that here.
Install the plugin and restart firefox.
Go to Tools > Addons and make sure the Firefox Compatibility Reporter plugin is enabled.
You are now able to enable use of the Google Toolbar.


Other plugins such as the AVG or Avast toolbars should now work at least partially. With our Google Toolbar test with Firefox 5, we found that some features simply didn't work anymore with the most noticeable being the lake of an about:blank page which normally features snapshots of frequently visited web sites.

The Google Toolbar help blog has yet to mention anything about Firefox and currently only releases news about updates to Internet Explorer releases. AVG has stated they are working on getting their antivirus web protection toolbar for Firefox up to compatibility standards.

Many users across Mozilla user forums are also still reporting the lack of support of the RealPlayer Firefox plugin, but it's not a priority at the moment to test that product. Adobe Flash on the otherhand has been supported since day one.

If you've tried the compatibility reporter and managed to get plugins working, please let us know in the comments below.