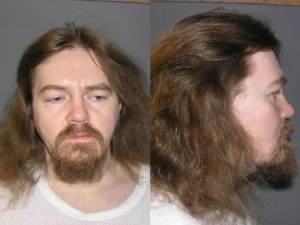 Ronald Allen Smith at time of his arrest in 1982 -Public Domain

On Aug. 4, 1982 aboriginal Cousins Harvey Mad Man, 23, and Thomas Running Rabbit, 20, were marched through the woods of Montana at gunpoint. Their mistake was offering Ronald Allen Smith, Rodney Munro and Andre Fontaine a ride and for this they would pay with their lives.

Armed with a shotgun Smith knew exactly what he intended to do. His accomplices Munro and Fontaine brandished knifes as they led their young victims on the final steps of their very young lives.

In the wooded area Smith raised the gun and shot Mad Man in the back of the head as Munro began stabbing Running Rabbit. Eventually Smith would finish him off with a gunshot to the temple. The reason for the ambush and killing was that the trio wanted to steal the truck the young men had picked them up in.

Three days later in a botched robbery attempt the trio would be picked up and charged with the murders. Unlike his partners, Smith would refuse a plea deal that would allow him to serve out his sentence in Canada and he would ask for a death sentence. He mused that he wanted to know how it would feel to kill someone and that he would likely kill again. Smith would get his wish and was sentenced to death, while his accomplices would be sent to Canada to serve their sentences.

As time went on Smith changed his mind about wanting to die and began challenging the sentence which has lead to over a quarter century of legal wrangling involving US and Canadian officials.

Canada has always has had a policy of asking for clemency for Canadians on death row. In 2007 the Conservative Government announced it would not seek clemency in the case of Smith in a policy shift which would result in a lawsuit by Smith against the Canadian Government.

The Canadian Supreme Court ruled that the Government of Canada had an obligation to seek clemency for Smith and Foreign Affairs Minister Lawrence Cannon stated that the government would comply with the court ruling. However, it appeared that Smith's time had run out and he was scheduled to die by lethal injection on January 31, 2011.

Now, in a last minute ruling the Montana Supreme Court has granted a stay of execution until two conflicting court rulings can be put to rest. Lawyers for Ronald Allen Smith launched a lawsuit stating that Lethal Injection is cruel and unusual punishment.

Until arguments are made and ruled upon Smith lives to fight another day, while the families of Harvey Mad Man and Thomas Running Rabbit watch and wait.