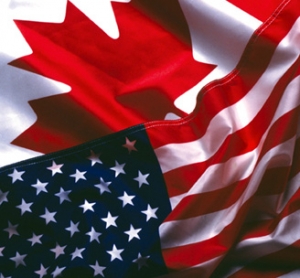 Canada-U.S. Relations -

If you're heading south of the border anytime soon, Canadians are about to face a surcharge of $5.50 if travelling there by air or boat. In a move implemented by the Obama administration, the cash-strapped U.S. government is trying to find new ways to help relieve the $1 trillion deficit.

While the relations between Canada and the U.S. have been strained recently because of Obama's "Buy American" rules, this seems to be another move which could see relations between the two neighbours slide.

The new surcharge comes from a provision in the free-trade agreement between Colombia and the U.S. It effectively nullified an exception of levying fees on those travelling from Canada, Mexico and Caribbean nations.

Canadians have been exempt from the fee for some time, should expect to see an increase in travel prices, hidden in the cost of a ticket for air or boat travel.

According to the American embassy in Ottawa, the tax isn't specifically targetted towards Canadians and claims it is a tax for everybody to pay when entering the United States.

The Harper government vows to fight the extra tax Canadians will face and in February, attacked the new policy as a bad proposal designed to bail out the debt of the U.S. on the backs of Canadians.

"Raising taxes at the border just raises costs on consumers," International Trade Minister Ed Fast said in a statement. "Canadian officials have raised concerns about the removal of this exemption at the highest level. We will continue to raise Canada's concerns with U.S. lawmakers."

As many as 7 million Canadians travel to the United States per year by air an an additional 150,000 by boat. Though in all fairness, everyone, including U.S. citizens, must also pay the new entry fee when travelling from anywhere in the world.