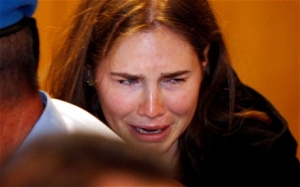 Amanda Knox after verdict read -Mirror

According to several reports by journalists inside the courtroom of a case which has captivated millions across the world, Seattle native Amanda Knox and former boyfriend Raffaele Sollecito have been cleared of murder charges they faced in the death of roommate Meredith Kercher, a British exchange student at the Perugia University for foreigners.

The ruling comes after an appeal to the original murder change which put Knox and her Italian boyfriend behind bars for 26 and 25 years respectively.

Following a summer break in the Italian courts, the 2 judges and 6 jurors ruled on the case following personal pleas to the court by Amanda and Raffaele.

The Knox family has reportedly spent over $1 million in publicity and legal fees and are expected to return almost immediately to native Seattle.

This is only the first of two possible appeals. A second appeal could be launched by the prosecution, of which could involve an extradition request.

22:35 (Perugia) - Amanda Knox has left the courthouse and is arriving at the prison in which she was held for 4 years. She will enter the prison to retrieve her personal belongings. It is expected that Amanda and her family will leave the country almost immediately. As her passport is expired, the US embassy in Rome will be assisting her with a new passport. Though many news reports state that the entire Knox family will be leaving the country tonight, that would be difficult for an American citizen without a passport.

This story is ongoing.