Introduction to South Africa
The Republic of
South Africa
is a country located at the southern tip of the African continent. It borders the countries of
Namibia
,
Botswana
,
Zimbabwe
,
Mozambique
, and
Swaziland
.
Lesotho
is an enclave entirely surrounded by South African territory.
South Africa is a racially diverse nation. It has the largest population of people of Coloured, European, and
India
n communities in Africa. Racial strife between the white minority and the black majority have played a large part in the country's history and
politics
, culminating in apartheid which was instituted in 1948 by the National Party. The laws that defined apartheid began to be repealed or abolished in 1990 after a long and violent struggle by the black majority, as well as some White, Coloured, and Indian South Africans.
The country is one of the few in Africa never to have had a coup d'état, and regular elections have been held for almost a century, although black South Africans were only enfranchised in 1994. This stability has made it a regional power and among the most stable liberal democracies in Africa. The economy of South Africa is the largest and best developed on the continent, with modern infrastructure common throughout the country.
South Africa is often referred to as The Rainbow Nation - a term coined by Archbishop Desmond Tutu and later elaborated upon by then-President Nelson Mandela as a metaphor to describe the country's newly-developing multicultural diversity in the wake of separatist Apartheidist ideology.
The spirit of reconciliation has led to a general South African patriotism that cuts across racial lines, and has been exemplified in such projects as the Proudly South African campaign and the concept of the Rainbow Nation. Although common, such sentiment is not shared by all South Africans. Many white people feel betrayed by what they see as the National Party's capitulation, and feel victimized by the government's controversial affirmative action policies. They cite crime in general and rural violence in particular as major problems. Black dissent is also significant. Despite the end of apartheid, millions of South Africans, mostly black, continue to live in poverty. The reason for this is attributed to the legacy of the apartheid regime and increasingly, what many see as the failure of the current government to tackle social issues. However, the ANC's social housing policy has produced some improvement in living conditions in many areas. Many black South Africans do not identify with the progressive economic and social policies of the ANC, and demand more direct social activity from the government. They also feel that the ANC's land redistribution programme does not go far enough, and is not moving fast enough.
South Africa is located at the extreme south of Africa, with a long coastline that stretches more than 2,500 km and across two oceans (the Atlantic and the Indian). South Africa has a great variety of climate zones, from the extreme desert of the Kalahari near Namibia to lush subtropical climate along the border with Mozambique. It quickly rises over a mountainous escarpment towards the interior plateau known as the Highveld. Even though South Africa is classified as semi-arid, there is considerable variation in climate as well as topography.
The interior of South Africa is a giant, mountainous, and sparsely populated scrubland Karoo plateau, which is drier towards the north-west along the Kalahari desert. In contrast, the eastern coastline is lush and well-watered which produces a climate similar to the tropics. The extreme south west has a climate remarkably similar to that of the Mediterranean with wet winters and hot, dry summers. This area also produces much of South Africa's wine. This region is also particularly known for its wind, which blows intermittently almost all year. The severity of this wind made passing around the Cape of Good Hope particularly treacherous for sailors, causing many shipwrecks. Further east on the country's south coast rainfall is distributed more evenly throughout the year, producing a green landscape. This area is popularly known as the Garden Route.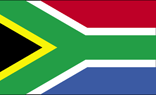 Flag of South Africa
Cultural notes about South Africa
While it may be argued that there is no "single" culture in South Africa because of its ethnic diversity, South Africans of all races and backgrounds are united by a sincere desire to see to it that the horrors and injustices of Apartheid are never again repeated. Today, the diverse cultural foods are enjoyed by all and especially marketed to tourists who wish to sample the large variety of South African cuisine. In addition to food, music and dance are equally enjoyed and appreciated by all.
South African cuisine is heavily meat-based and has spawned the distinctively South African social gathering known as a braai. South Africa has also developed into a major wine producer, with some of the best vineyards in the world lying in valleys around Stellenbosch, Franschoek and Paarl.
There is great diversity in music from South Africa. Many black musicians who sang in Afrikaans or English during apartheid have since begun to sing in traditional African languages, and have developed a unique style called Kwaito. Of note is Brenda Fassie, who launched to fame with her song "Weekend Special", which was sung in English. More famous traditional musicians include Ladysmith Black Mambazo, while the Soweto String Quartet performs classic music with an African flavour. White and Coloured South African singers tend to avoid traditional African musical themes, instead preferring more European musical styles. There is a thriving market for Afrikaans music, covering all the genres of Western music.
The country's black majority still has a substantial number of rural inhabitants who lead largely impoverished lives. It is among these people, however, that traditional dance and music survive; as blacks have become increasingly urbanised and westernised, aspects of traditional culture have declined. Urban blacks usually speak English or Afrikaans in addition to their native tongue. There are smaller but still significant groups of speakers of Khoisan languages which are not official languages, but are one of the eight officially recognised languages. There are small groups of speakers of endangered languages, most of which are from the Khoi-San family, that receive no official status; however, some groups within South Africa are attempting to promote their use and revival.
The white minority lead lifestyles similar in many respects to whites found in Western Europe, North America and Australasia. Historical enmity between Afrikaans and English-speaking whites has given way to banter that is purely amiable today.
Despite considerable discrimination under apartheid, Coloureds tend to relate more to white South African culture rather than black South African culture, especially Afrikaans-speaking Coloured people whose language and religious beliefs are similar or identical to white Afrikaners. A small minority of Coloureds, known as Cape Malays, are Muslim.
Asians, predominantly of Indian origin, preserve their own cultural heritage, languages and religious beliefs, being either Hindu or Sunni Muslim, and speaking English, with Indian languages like Tamil or Gujarati being spoken less frequently. Most Indians arrived on the famous Truro ship as endentered labourers in Natal to work the Sugar Cane Fields. There is a much smaller Chinese community in South Africa, although its numbers have increased due to immigration from Taiwan. Since the Taiwanese were classified as White, rather than Asian, under apartheid, they tend to be more culturally similar to whites in many ways than they are to other Asians.
Official Canadian government advisories for travelling to, in and around South Africa
Since 2002, the South African authorities have been improving security, especially for tourists. Closed-circuit video cameras have been installed and police patrols have been increased in downtown areas of Johannesburg, Pretoria, and Cape Town. These measures have greatly reduced the incidence of crime, but Canadians should still avoid these areas after dark. You should be aware that the increased anti-crime effort in city cores has led to higher crime in the suburbs of metropolitan areas, including suburban hotel districts.
You should be extremely vigilant when leaving Johannesburg International Airport by vehicle. There have been incidents involving foreigners who have been followed from the airport and then robbed at gunpoint outside their hotel, guesthouse or residence. Do not accept a lift from strangers. You should always ensure that prior arrangements for pick-up have been made, if that is not possible, use only authorized airport taxis. If you have any doubts, you should contact the airport police.
In Johannesburg, you should avoid at all cost the Hillbrow area and refrain from venturing to Berea and Yeoville. Drug trafficking occurs in these areas. Although security conditions have improved in Carlton Centre, you should also avoid this area.
In Cape Town, most crime occurs in the townships and isolated regions away from the normal tourist destinations. The popular V & A Waterfront area is generally considered to be safe, even after dark; however, the central neighbourhood of Sea Point should be considered dangerous after shops close in the late afternoon; you should only visit the townships of Khayelitsha, Mitchell's Plain and Gugulethu in the company of an experienced and knowledgeable local person. There are reputable tour companies that can organize visits to townships. Do not accept food or drinks from strangers. Do not leave food or drinks unattended in bars or restaurants. Cases of drugging followed by robbery and assault have occurred. Avoid isolated beaches, viewing points and picnic areas.
In Cape Town's central business district, you should walk purposefully and avoid walking leisurely with a camera or repeatedly looking at a map. Do not venture into this district after dark or during weekends.
Theft, including from hotel rooms, is common. Backpacks and handbags have been taken while visitors are eating at restaurants, pubs and coffee shops. Do not leave your bag under your chair or hung over the back of a chair. It should be placed safely between your legs or hooked under the chair or on your lap.
Your luggage should never be left unattended. Place your valuables in safekeeping facilities. Keep hotel rooms locked at all times and always request identification before opening the door. Theft, particularly of passports, is prevalent at international airports, especially in baggage and immigration areas, in telephone booths, and at foreign exchange counters. You should carry photocopies of your travel documents and leave copies at the hotel. You should also avoid displays of money, jewellery, cameras, mobile phones, and video cameras. Travellers should arrange to be met upon arrival. Do not leave the airport with someone whose identity cannot be verified. Avoid using unlicensed taxis.
Armed assaults, carjackings, and muggings occur. Carry a cellular phone in the event of an emergency. Should you feel in any way at risk, proceed to a location (e.g. police, shopping centre or service station) where help is available. Vehicle doors should be locked, windows shut, and personal belongings, including handbags, safely stored. Criminals smash windows and grab handbags. Park in well-lit areas and do not pick up hitchhikers.
Crime also occurs in and around railway stations and on trains. Do not travel in second or third class. Tourists have been mugged around the Rotunda bus terminal in Johannesburg. Muggings and violent attacks have also taken place on local commuter and metro trains between Johannesburg and Pretoria, as well as on commuter trains in Cape Town.
You should be aware that strikes and demonstrations occur and can turn violent. You should monitor local news reports and avoid large crowds and demonstrations.
Use caution when driving in the former independent homelands of Transkei and Ciskei (now incorporated into the provinces of Eastern Cape and Kwazulu/Natal). Some areas, such as the "Wild Coast" in the former Transkei, have high crime levels and inadequate medical services. Travel to the townships, or other areas off the normal tourist route, should be undertaken only in organized tours or after seeking the advice of the Canadian High Commission in Pretoria (see below). Consult with travel agency or hotel staff to plan a safe itinerary if travelling alone.