Introduction to Sierra Leone
The Republic of
Sierra Leone
is a country in West Africa. It is bordered by
Guinea
on the north and
Liberia
on the south, with the Atlantic Ocean on the west. The name Sierra Leone was adapted from the Portuguese version: Sera Lyoa. The original meaning was "Lion Mountains." During the 1700s it was an important centre of the Transatlantic Slave Trade. Much like neighbouring Liberia, it was founded by freed slaves, who in 1791 founded the capital, Freetown. In 1808, Freetown became a British Crown Colony, and in 1896, the interior of the country became a British Protectorate. The Crown Colony and Protectorate joined and gained independence in 1961. From 1991 to 2000, the country suffered greatly under a devastating civil war.
In May 2000, the situation in the country deteriorated to such an extent that British troops were deployed in Operation Palliser to evacuate foreign nationals and establish order. They stabilised the situation, and were the catalyst for a ceasefire and ending of the civil war. United Nations peacekeeping forces withdrew at the end of 2005.
Much of Sierra Leone's coastline consists of mangrove swamps, with the exception of the peninsula on which the capital city Freetown is located. The rest of Sierra Leone is mostly plateau (about 300 m above sea level) covered by forests, with mountains in the northeast of the country (highest point Loma Mansa, 1,948 m). The climate is tropical, with a rainy season from May to December.
Major cities are the capital Freetown, Koidu (Sefadu), Bo, Kenema and Makeni.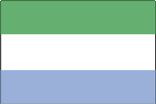 Flag of Sierra Leone
Official Canadian government advisories for travelling to, in and around Sierra Leone
You are advised against all travel to the border area with Liberia and Guinea. Canadians should exercise caution when travelling in Sierra Leone and avoid travelling after dark. You should use extreme caution if travelling to the city centre of Freetown. Crime, including theft, remains a problem. Local police may not be able to assist you. Demonstrations should be avoided. Canadians should check with local authorities for the latest information.
Canadians in Sierra Leone should contact the Embassy of Canada in Abidjan, Côte d'Ivoire (see below), for the latest security information. The ability of the Embassy of Canada in Abidjan to render assistance in Sierra Leone is severely limited.