Introduction to Papua New Guinea
The Independent State of Papua New
Guinea
(informally,
Papua New Guinea
or PNG) is a country in Oceania, occupying the eastern half of the island of New Guinea and numerous offshore islands (the western portion of the island is occupied by the
Indonesia
n provinces of Papua and West Irian Jaya). It is located in the southwestern Pacific Ocean, in a region defined since the early 19th century as Melanesia. Its capital and one of its few major cities is Port Moresby. It is one of the most diverse countries on Earth, with over 700 indigenous languages and at least as many indigenous societies, out of a population of just over 5 million. It is also one of the most rural, with only 18% living in urban centres.[1]
The majority of the population live in indigenous societies and practice subsistence-based agriculture. These societies and clans have some degree of distinct acknowledgement within the nation's constitutional framework. The PNG Constitution (Preamble 5(4)) expresses the wish for traditional villages and communities to remain as viable units of Papua New Guinean society[2], and for active steps to be taken in their preservation. The PNG legislature has enacted various laws in which a type of tenure called "customary land title" is recognised, meaning that the traditional lands of the indigenous peoples have some legal basis to inalienable tenure. This customary land notionally covers most of the usable land in the country (some 97% of total land area)[3]; alienated land is either held privately under State Lease or is government land. There is no freehold in Papua New Guinea.
Its geography is similarly diverse, and in places extremely rugged. A spine of mountains runs the length of the island of New Guinea, forming a populous highlands region. Dense rainforests can be found in the lowland and coastal areas. This terrain has made it difficult for the country to develop transportation infrastructure. In some areas, planes are the only mode of transport. After being colonized by three external powers since 1888, Papua New Guinea gained its independence in 1975.
Independence from
Australia
occurred in September of 1975. A secessionist revolt which claimed 20,000 lives raged on the island of Bougainville from 1988 until it was resolved in 1997. Autonomous Bougainville recently elected Joseph Kabui as president.
Papua New Guinea is mostly mountainous (highest peak: Mount Wilhelm at 4,509 m/14,793 ft) and covered with rain forest; there are small plains along the coast. Situated along a fault line, earthquakes and the resultant tsunamis are relatively common in Papua New Guinea.
Papua New Guinea is one of the regions closest to the equator that experience snowfall, which occurs in the elevated regions.
The largest area of the country is on New Guinea where the largest cities are also located, including the capital Port Moresby, Lae and Mount Hagen; major islands belonging to Papua New Guinea include New
Ireland
, New Britain and Bougainville.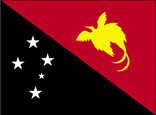 Flag of Papua New Guinea
Cultural notes about Papua New Guinea
The culture of Papua New Guinea (PNG) is many-sided and complex. It is estimated that more than 1000 different cultural groups exist in PNG, and most groups have their own language. Because of this diversity, in which they take pride, many different styles of cultural expression have emerged; each group has created its own expressive forms in art, dance, weaponry, costumes, singing, music, architecture and much more.
To unify the nation, the language Tok Pisin, once called Neo-Melanesian (or Pidgin English) has evolved as the lingua franca — the medium through which diverse language groups are able to communicate with one another in Parliament, in the news media, and elsewhere.
People typically live in villages or dispersed hamlets which rely on the subsistence farming of sweet potatoes and taro. The principal livestock in traditional PNG is the oceanic pig (Sus papuiensis). To balance the diet, people of PNG hunt, collect wild plants, or fish--depending on the local environment and mode of subsistence. Those who become skilled at farming, hunting, or fishing--and are generous--earn a great deal of respect in Papua New Guinea.
On the Sepik River, a group of Sepik or Scepic indigenous people is known for their wood carvings. They create forms of plants or animals, because they believe these are their ancestor beings and because they feel they are beautiful. They also create traditional skull portraits.
Even though sea shells are no longer the currency of Papua New Guinea - sea shells were abolished as currency in 1933 - this heritage is still present in local customs; to get a bride, a groom must bring a certain amount of golden-edged clam shells.
People of the Papua highlands engage in colourful local rituals that are called "sing sings". They paint themselves and dress up with feathers, pearls and animal skins to represent birds, trees or mountain spirits. Sometimes an important event, such as a legendary battle, would be enacted at such a musical festival.
Official Canadian government advisories for travelling to, in and around Papua New Guinea
The Canadian government and Canadian Content advises against all travel to the region(s) specified below.
You are advised against all travel to the Southern Highlands province and Enga province. Law and order remain very poor in other Highlands provinces and in the cities of Port Moresby and Lae. Canadians travelling to these areas should exercise caution and contact the Australian High Commission in Port Moresby (see below) prior to travel.
The security situation on Bougainville Island has improved. However, Canadians are advised against all travel to the central mountainous area around the old Panguna mine. There are no tourist facilities, and transportation facilities are limited. Canadians should seek advice from the Australian High Commission in Port Moresby prior to travel.
There is a heightened threat of terrorism throughout Southeast Asia. Canadians should maintain a high level of personal security awareness at all times. Exercise caution, particularly in commercial and public establishments (hotels, clubs, restaurants, bars, schools, places of worship, outdoor recreation events) and tourist areas frequented by foreigners.