Introduction to Lithuania
The Republic of
Lithuania
(Lithuanian: Lietuva; full - Lietuvos Respublika) is a republic in northeastern Europe. One of the three Baltic States along the Baltic Sea, it sh
ares
borders with
Latvia
to the north,
Belarus
to the southeast,
Poland
to the south, and the Kaliningrad Oblast (region) of
Russia
to the southwest.
Lithuania joined the United Nations on September 17, 1991. On May 31, 2001, Lithuania became the 141st member of the World Trade organisation. Since 1988, Lithuania has sought closer ties with the West, and so on January 4, 1994, it became the first of the Baltic States to apply for NATO membership. On November 21, 2002, NATO invited Lithuania to start membership negotiations, and on March 29, 2004, it became a full and equal NATO member. On February 1, 1998, it became an Associate Member of the European Union, and on April 16, 2003, it signed the EU Accession Treaty. 91% of Lithuanians backed EU membership in a referendum held on May 11, 2003 and on May 1, 2004, Lithuania joined the European Union.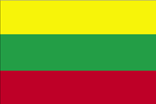 Flag of Lithuania
Official Canadian government advisories for travelling to, in and around Lithuania
The crime rate is low. Petty crime, such as mugging, pickpocketing, and purse snatching, occurs. Foreigners are often targeted. Exercise caution in crowded areas, on public transportation, at airports, railway stations, bars, restaurants, and hotels. Ensure personal belongings, including passports and other travel documents, are secure at all times. Avoid walking alone after dark, especially in parks and poorly lit areas. Travellers should avoid the upper part of the Uzupis district of Vilnius (artists' district) and areas surrounding the bus station. Refuse all food and drink offered by strangers. Travellers have been drugged and subsequently robbed. Auto theft, especially of new and expensive cars, is rampant. Lock unattended vehicles and conceal all items (including radios). Keep vehicles in a guarded parking lot, particularly overnight. Police headquarters in Vilnius provides interpreters at police stations to assist with incidents involving foreigners. Dial 02 for the police, 01 for fire services, and 03 for emergency care.