Introduction to India
The Republic of
India
, commonly known as India, is a country in South Asia which comprises the majority of the Indian subcontinent. India has a coastline which stretches over seven thousand kilometres, and sh
ares
a border with
Pakistan
to the west, the People's Republic of
China
,
Nepal
, and
Bhutan
to the northeast, and
Bangladesh
and Myanmar to the east. On the Indian Ocean, it is adjacent to three island nations -- the
Maldives
(to the southwest),
Sri Lanka
(to the south), and
Indonesia
(to the southeast). India also claims a border with
Afghanistan
to the northwest.
India is the fourth largest economy in the world in terms of purchasing power parity, and the tenth largest in absolute terms. It is the second most populous country in the world, with a population of over one billion, and is the seventh largest country by geographical area. It is home to some of the most ancient civilizations, and a centre of important historic trade routes. Four major world religions: Hinduism, Buddhism, Jainism and Sikhism have Indian origins. Formerly a major part of the British Empire as the British Raj before gaining independence in 1947, during the past twenty years the country has grown significantly, especially in its economic and military spheres, regionally as well as globally.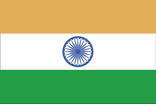 Flag of India
Cultural notes about India
The culture of India is one of the oldest cultures in the world. In modern India, there is remarkable cultural diversity throughout the country. The South, North, and Northeast have their own distinct cultures and almost every state has carved out its own cultural niche. In spite of the diversity, it's bound by a common a thread as one civilization perhaps because of its common history and transfer of age old knowledge in the geographies. Indian culture and religions had great impacts on South East Asia and this is evident in the legacy it left. Indian influences are still very strong in Thai, Malay, Indonesian, Laotian, Khmer, Burmese cultures and many more.
One of the most interesting aspects of Indian art and architecture prior to colonization was the strong impact of religious and folk idioms and folk art on courtly art. Although folk art received little encouragement during the period of colonization, independence brought forth a renewed interest in folk paintings.
The earliest literary traditions were mostly oral and were later transcribed. Most of these spring from Hindu tradition and are represented by sacred works like the Vedas, the epics of the Mahabharata and Ramayana. Sangam literature from Tamil Nadu represents some of India's oldest secular traditions. Indian writers in modern times, like Arundhati Roy, Vikram Seth, Khushwant Singh have been the cynosure of wide acclaim, both in Indian languages and English.
India offers a number of classical dance forms, each of which can be traced to different parts of the country. Each form represents the culture and ethos of a particular region or a group of people. The seven main styles are Bharatanatyam, Kathak, Odissi, Kuchipudi, Mohiniattam, Manipuri and Kathakali.
There are many types of dance in India, from those which are deeply religious in content, often based on old Vedic or Hindu folk traditions, to those which are danced on lighter occasions.
Bollywood is the informal name given to the popular Mumbai-based film industry in India. Bollywood and the other major cinematic hubs (Bengali, Kannada, Malayalam, Tamil, Telugu) constitute the broader Indian film industry, whose output is considered to be the largest in the world in terms of number of films produced and, possibly, number of tickets sold.
Bollywood films are usually musicals. Few movies are made without at least one song-and-dance number. Indian audiences expect full value for their money; they want songs and dances, love interest, comedy and dare-devil thrills, all mixed up in a three hour long extravaganza with intermission. Such movies are called masala movies, after the Indian spice mixture masala. Like masala, these movies are a mixture of many things. Plots tend to be melodramatic. They frequently employ formulaic ingredients such as star-crossed lovers and angry parents, corrupt politicians, kidnappers, conniving villains, courtesans with hearts of gold, long-lost relatives and siblings separated by fate, dramatic reversals of fortune, and convenient coincidences, and even movies with tri polar changes that can turn a movie and its plot upside down.
However, with the opening up of the economy in the recent years & consequent exposure to world cinema, audience tastes have been changing. Indian movies have now started following authentic, real world themes with a lower amount of melodrama & some do not even contain songs. In addition, multiplexes have mushroomed in most cities, changing the revenue patterns & allowing film makers greater liberty & scope for executing bold & innovative ideas which would not have been possible even a decade ago.
Official Canadian government advisories for travelling to, in and around India
The Canadian government and Canadian Content advises against all travel to the region(s) specified below.
You are advised against all travel to the northeastern states of Manipur, Tripura, Assam and Nagaland. You are also advised against travel to Jammu and Kashmir, with the exception of Ladakh via Manali or by air to Leh. Travel to the border areas of Gujarat, Rajasthan, Punjab, and areas of Ladakh close to the Line of Control (with the exception of Amritsar and Jaisalmer) should also be avoided. Fields of landmines have been laid along the border with Pakistan. Military presence remains on both sides of the Line of Control. Militants have kidnapped and killed several foreigners in recent years. The Indian government has designated all districts of the Jammu region to be "disturbed areas" under the Disturbed Areas Act. Some travel agents are advising that travel to Jammu and Kashmir is safe. Travellers should not accept this advice. The Indian army continues to cordon off the border and conduct complementary exercises along the Indo-Bhutan border. Therefore, you are advised against all travel to the border areas of Assam and West Bengal.
Tensions between India and Pakistan have eased, but the security situation remains unpredictable and could deteriorate at short notice. Canadians should monitor local developments closely and register with the Canadian High Commission in New Delhi.
Terrorist violence, such as bombings in public areas and on public transportation, occurs. Trains and buses are potential targets. Violent crime against foreigners is uncommon but occurs. Petty crime, including pickpocketing and bag snatching, is common. Passports and valuables have been stolen from luggage on trains and buses. Pay attention to the security of personal belongings and passports. Do not accept food or drink from strangers. There have been cases of drugging.
Exercise caution when travelling throughout India, particularly when visiting tourist sites or attending public events, and avoid crowds and demonstrations. Political rallies and demonstrations are frequent throughout the country and can turn violent, particularly immediately preceding and following elections. Transportation and services can be disrupted. Curfews are occasionally imposed. Carry identification at all times. Do not travel alone, especially after dark. Travelling alone in remote areas presents particular risks for foreigners.
Scams involving the export of jewels and/or carpets have occurred. Canadians have been approached by taxi drivers offering money to export such items. Canadians should not accept any offer, no matter how convincing.