Introduction to Guinea
The Republic of
Guinea
(French: République de Guinée) is a nation in West Africa. It borders
Guinea-Bissau
and
Senegal
on the north, Mali on the north and north-east, the Côte d'Ivoire on the south-east,
Liberia
on the south, and
Sierra Leone
on the west. Its territory encompasses the water source for the
Niger
, Senegal, and Gambia rivers, with a coastline facing the Atlantic Ocean. The name Guinea (geographically assigned to most of Africa's west coast, south of the Sahara desert and north of the Gulf of Guinea) originates from Berber and roughly translates into 'land of the blacks.'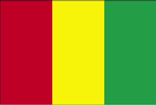 Flag of Guinea
Official Canadian government advisories for travelling to, in and around Guinea
The Canadian government and Canadian Content advises against all travel to the region(s) specified below.
You are advised against all travel to the areas bordering Liberia, Sierra Leone and Côte d'Ivoire, as a result of continued military activity and banditry. There is a risk of renewed inter-ethnic violence in and around the town of N'Zérékoré, in Guinea Forestière. The border with Côte d'Ivoire is closely monitored by local authorities and the army.