Introduction to Finland
The Republic of
Finland
(Finnish: Suomen tasavalta Swedish: Republiken Finland) is a Nordic country in northeastern Europe, bounded by the Baltic Sea to the southwest, the Gulf of Finland to the south and the Gulf of Bothnia to the west. Finland has land frontiers with
Sweden
,
Norway
and
Russia
. The Åland Islands, off the southwestern coast, are under Finnish sovereignty while enjoying extensive autonomy. The commonly used Finnish name for the country is Suomi, the Swedish one Finland. (In Latin, Finland is Fennia, this is used in scientific naming.)
Finland has a population of five million people in more than 330,000 square kilometres (127,000 sq. mi), making it the 162nd most densely populated country in the world. It ranked thirteenth on the 2005 United Nations Human Development Index.
Finland is a country of thousands of lakes and islands; 187,888 lakes and 179,584 islands to be precise. One of these lakes, Saimaa, is the 5th largest in Europe. The Finnish landscape is mostly flat with few hills and its highest point, the Haltitunturi at 1,328 metres (4,357 ft), is found in the extreme north of Lapland. Beside the many lakes the landscape is dominated by extensive boreal forests (about 68 percent of land area) and little arable land. The greater part of the islands are found in southwest, part of the archipelago of the Åland Islands, and along the southern coast in the Gulf of Finland. Finland is one of the few countries in the world that are still growing. Owing to the isostatic uplift that has been taking place since the last ice age, the surface area of the country is growing by about 7 square kilometres (2.7 sq mi) a year.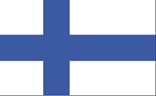 Flag of Finland
Cultural notes about Finland
The Culture of Finland is inherently hard to define. However, there are some general characteristics often associated with Finnish society and every day culture. Finns are generally a reserved people, like other Nordic peoples in Norway or Sweden. Traditionally, Finns enjoy peace and nature, though the modern, urban lifestyle is popular with many.
A sense of melancholy and depression is sometimes associated with the Finns. People in Finland are reserved when meeting strangers and sometimes take a long time to become familiar with others but, as a result, relationships are deep and lasting. Alcohol is considered to be an effective method of lowering these inhibitions. Still, Finns tend to be less gregarious and inclined to small talk than most of their European peers.
Finns are proud that their country has managed to rise from its relative poverty during the early 20th century to a modern democracy. Equality is an important part of Finnish culture as in other Nordic countries, so much so that success or what may be seen as a deliberate attempt to distinguish oneself from others may be viewed with hostility. It is commonly frowned upon in Nordic cultures to believe yourself to be better than others, whether by birth or achievement.
The Finnish national character is called sisu, for which an exact English equivalent does not exist. Composed of stamina, tenacity and sheer will, it is a kind of tough, persevering strength in the face of adversity. Rather than the Germanic Wille zur Macht (will to power), it is the will never to buckle under or collapse or be dominated. Historically, the Finns have had to be a tough people to survive with their own culture and language in the face of incessant Russian aggression alternating with Swedish rule. (See also: History of Finland)
Despite its difficult history, Finland has exported its culture far out of proportion to its small population. Finnish designers and musicians led the way, and today Finland is known for its technological products such as Nokia and Linux.
Government contributions to culture have increased steadily in recent years, but viewed against the present government's firm objective to limit public expenditures, contributions will stabilize in the future. Most support goes to libraries and archives, theater, museums, arts and crafts training, and films.
The national dance of Finland, oddly enough, is the tango.
Official Canadian government advisories for travelling to, in and around Finland
Most Canadian visitors to Finland do not experience problems. There are no serious security or safety concerns. Petty crime such as pickpocketing occurs. Exercise normal safety precautions and ensure personal belongings, passports, and other travel documents are secure, especially on public transportation. Public transportation, including bus, train, tram, and subway, is extensive and very efficient. The telephone number for police, fire, and ambulance is 112. Police can also be reached at 10022.