Introduction to Estonia
The Republic of
Estonia
, or Estonia (Estonian: Eesti Vabariik or Eesti) is a country in Northern Europe and a member state of European Union since 2004. It is separated from
Finland
in the north by the narrow Gulf of Finland and from
Sweden
in the west by the middle part of the Baltic Sea. Estonia has land borders with its fellow Baltic country
Latvia
to the south and
Russia
to the east.
Estonia lies on the eastern shores of the Baltic Sea on the level northwestern part of the rising east European platform between 57.3° and 59.5° N and 21.5° and 28.1° E. Average elevation reaches only 50 m, and the country's highest point is the Suur Munamägi in the southeast (318 m).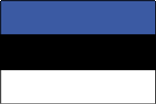 Flag of Estonia
Official Canadian government advisories for travelling to, in and around Estonia
Petty crime, such as pickpocketing, purse-snatching, and mugging, occurs. Thieves often target tourists in airports, train stations, and other public areas, especially during the summer tourist season. Violent crime occurs, but foreigners are not usually targeted. Avoid parks, poorly lit streets, and certain areas of Tallinn, including Kopli, Lasnamäe, and Kadriorg, after dark. Theft of vehicles or their contents is common. Keep vehicles locked and in guarded parking lots overnight. Ensure personal belongings, passports, and other travel documents are secure. Do not show signs of affluence. Canadians should carry identification at all times. For emergency assistance, call 112.